Why Choose Us?



- Locally-owned and operated
- Friendly & knowledgeable
- Fully licensed & insured
- Free quotes
- Guaranteed workmanship
- Custom designs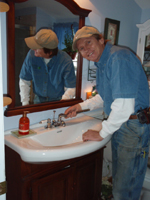 At Basic Needs Construction and Painting Company, LLC. I am committed to ensuring that every customer is completely satisfied with my workmanship.
All estimates are free. I can bid the work on a job or if you prefer to have a time and materials quote, that is always available. My rates range from $35 - $50/hour with most work billed at $35/hour.
Call me now at (207) 449-0109 for your free estimate or email me at ed@ipaintandremodel.com!
A certificate of insurance is available upon request.